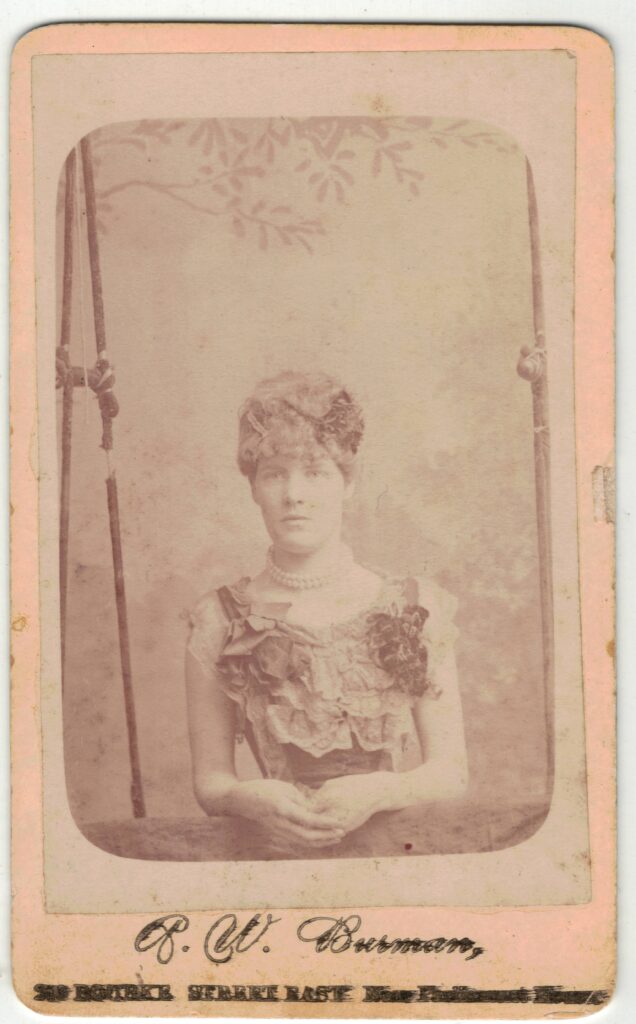 A carte-de-visite of a trapeze artiste believed to be Madame Zenobia who toured Australia with the large American circus of Cooper, Bailey & Co's Great International Allied Shows in 1876-77. She was described as "a trapezist of great daring and dexterity who swung by one foot from a flying ring, thirty feet high, without the safety of a net beneath her". Not all opinions were so complementary. "Were law on our side", said the Austral Review, "we would not allow it".
In 1877-78, Zenobia again toured Australia with Cooper, Bailey & Co, but now billed as Madame Minnie Cordella, "the fearless bareback equestrienne". Also on the bill was "Professor Wombold' [sic] and his troupe of educated dogs". He also worked as the 'fire king' in one of the Cooper, Bailey & Co sideshows. Wombold's true name was William Mitchell. Mitchell and Cordella were married towards the end of the 1877-78 tour and remained in Australia for another year to take up engagements with colonial companies.
Madame Cordella performed as an equestrienne in St Leon's Circus during its Brisbane season of August 1878. Her daring acts upon a flying steed could cause "the wildest excitement, and elicit rounds of applause, and [she] stands today an unrivalled lady equestrienne". Professor and Madame Wombold were members of Burton's Great Australian Circus that opened in Sydney on 30 August 1879.
They appear to have left Australia and returned to America soon after.
Sources: Cooktown Courier, 4 July 1877; Austral Review, October 1877; Australian Town & Country Journal, 24 November 1877; New York Clipper, 8 June 1878; Brisbane Courier, 19 August 1878.