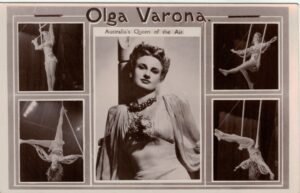 Olga Varona, an Australian aerialist, was a popular performer in British music halls and theatres in the 1940s and 1950s.
This postcard was signed "… Olga Varona … Empire, Glasgow, 4 Sept 1948".
Olga Varona was born Elizabeth Maude Jarvis in Roma, Queensland in 1913. She was one of six children. When her father died in 1923, the family moved to Brisbane. Olga joined a dancing school, and at the age of 14, answered a newspaper advertisement seeking a young lady to join a circus. She went on to tour Australia with the circus for eight years before making her debut as a vaudeville performer in George Wallace's show at the Theatre Royal in George Street, Brisbane, before joining the Australian Tivoli circuit and becoming a vaudeville headliner. With her husband and manager Archie Collins, Olga headed to  the UK  after  World War II, performing with some of the biggest names in variety. She took part in the 1947 Command Performance at the Palladium in London. Olga's long red hair and elaborate costumes, all made by herself, were a feature of the act. In all, Olga appeared at the London Palladium nine times including a Royal Command and worked with some of the world's leading film and stage stars. Olga Varona died in Brisbane in 2004.