Database of early colonial acts in Australia
This is a listing of acts presented in colonial circus during the formative era, December 1847  to October 1850.
The Penny Gaff is working to extend this database up to and including December 1856, the end of the amphitheatre/fixed location era.
Use the filters provided to narrow down your search to a date, location or show of particular interest. Consult the pdf at the bottom of the page for further information about this unique database.
If you have any corrections or additions to suggest, drop a line to the Penny Gaff by way of our Forum.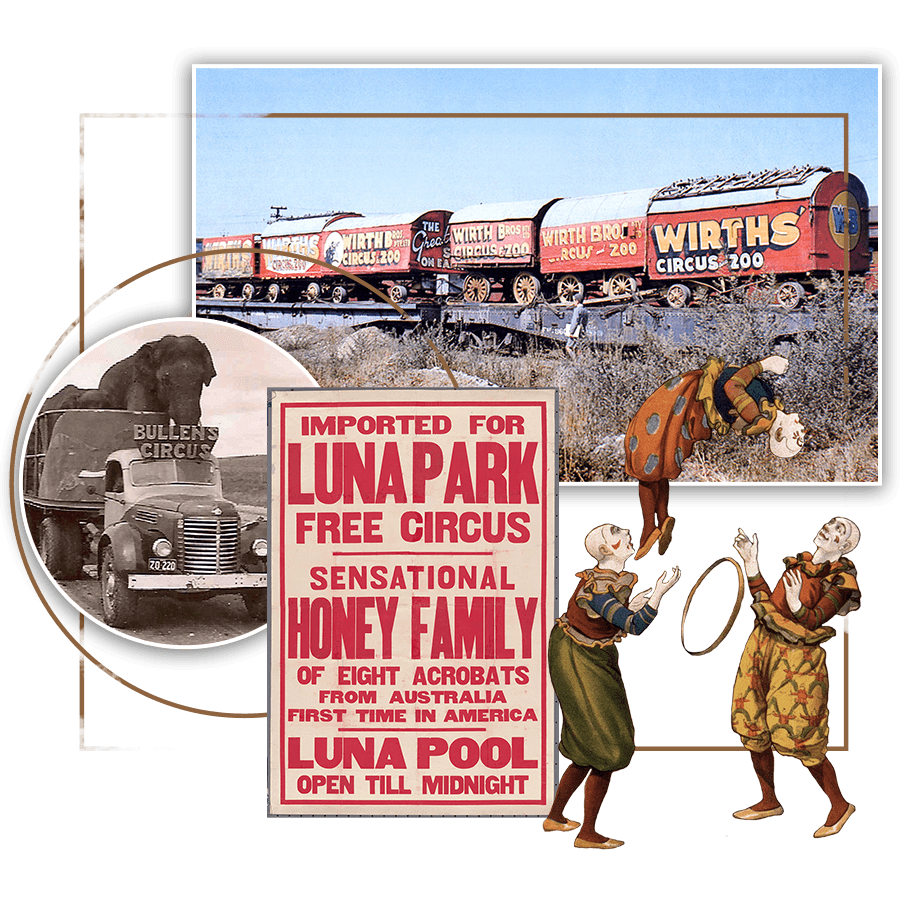 Artists
| wdt_ID | TITLE | DAY | MONTH | YEAR | VENUE | LOCATION |
| --- | --- | --- | --- | --- | --- | --- |
| 1 | Billy Button's Ride to Brentford | 27 | Dec | 1847 | Rad | Lau |
| 2 | Drunken Hussar, The | 27 | Dec | 1847 | Rad | Lau |
| 3 | Sailor's Return, The | 5 | Jan | 1848 | Rad | Lau |
| 4 | Shaw, The Life Guardsman [Waterloo; or, The Life & Death of] | 5 | Jan | 1848 | Rad | Lau |
| 5 | Larry O'Gaff | 5 | Jan | 1848 | Rad | Lau |
| 6 | Sir Roger de Coverly; or, The Flitch of Bacon | 5 | Jan | 1848 | Rad | Lau |
| 7 | Terrific Combat on Horseback & Foot | 5 | Jan | 1848 | Rad | Lau |
| 8 | Hornpipe, Double | 5 | Jan | 1848 | Rad | Lau |
| 9 | Grecian Statues, The | 5 | Jan | 1848 | Rad | Lau |
| 10 | Life in London | 5 | Jan | 1848 | Rad | Lau |
| 11 | Acrobats, The Four Wonderful | 5 | Jan | 1848 | Rad | Lau |
| 12 | Highland Fling, Double | 12 | Jan | 1848 | Rad | Lau |
| 13 | Song | 12 | Jan | 1848 | Rad | Lau |
| 14 | Dance, The May-Pole | 12 | Jan | 1848 | Rad | Lau |
| 15 | Billy Button's Ride to Brentford | 12 | Jan | 1848 | Rad | Lau |
| 16 | Returned Sailor, The | 12 | Jan | 1848 | Rad | Lau |
| 17 | Country Dance of Eight Horses, A | 12 | Jan | 1848 | Rad | Lau |
| 18 | Song | 12 | Jan | 1848 | Rad | Lau |
| 19 | Chinese Vaulting | 12 | Jan | 1848 | Rad | Lau |
| 20 | Shipwrecked Sailor, The, with celebrated Tableaux Vivants from The Brigands | 17 | Jan | 1848 | Rad | Lau |
| 21 | Song | 17 | Jan | 1848 | Rad | Lau |
| 22 | Drunken Farmer, The | 17 | Jan | 1848 | Rad | Lau |
| 23 | Indian War Dance | 17 | Jan | 1848 | Rad | Lau |
| 24 | Song, Comic | 17 | Jan | 1848 | Rad | Lau |
| 25 | Acrobats, The Four Wonderful | 17 | Jan | 1848 | Rad | Lau |
| | TITLE | DAY | MONTH | YEAR | VENUE | LOCATION |