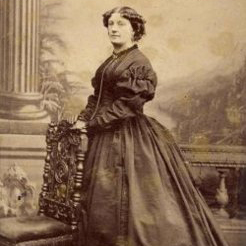 Marie Carandini, by W. P. Dowling, 1863-65
State Library of Victoria, H10446
Marie Carandini (1826-1894), prima donna, was baptized Maria on 1 February 1826 at St Matthew's Church of England, Brixton, London, daughter of James Burgess, coachman, and his wife Martha. The family arrived at Hobart Town as assisted immigrants in September 1833. On 11 March 1843 at St Joseph's Roman Catholic Church, Hobart, Maria married Jerome Carandini, the tenth marquis of Sarzano (1803-1870), who had arrived as an assisted immigrant in a troupe of musicians led by the Clarkes in January 1842. Carandini had been exiled from Italy in 1835 for revolutionary activities against Austrian overlords and claimed to have taught languages for many years in France and England. He attracted attention as a counter-tenor in Mrs Clarke's first musical soirée in February 1842 but in March was appointed to teach languages and dancing at the Queen's College under John Gell.
After the birth of their first child in August 1844 the Carandinis went to Sydney where the marquis appeared in a dancing act at a farewell benefit for George Coppin at the Royal Victoria Theatre. Madame Carandini, as she became known professionally, had made her début at a concert in Hobart on 21 August 1843, and in Sydney she continued her career, studying under Isaac Nathan, Madame Sara Flower, an English contralto who arrived in Sydney in 1850, and Madame Wallace Bushelle, sister of Vincent Wallace. She first appeared in Sydney's Royal Victoria Theatre in April 1845 when she sang excerpts from opera in a season of variety concerts. Her husband danced on the same programme. Soon she began to take leading parts in opera and light opera. In 1849 she gave a series of concerts in Hobart and, late in 1850 when she appeared with Sara Flower in Sydney, critics pronounced her voice to be 'wonderfully improved'. In September 1854 when Catherine Hayes arrived in Sydney, Carandini was in Hobart for the birth of another daughter but in July 1855 she was chosen to sing the tenor parts, 'suitably adjusted to the soprano register' in Hayes's triumphal opera season at the Theatre Royal in Melbourne in October. Among Carandini's roles were Elvino in Bellini's La Sonnambula and Gennaro in Donizetti's Lucrezia Borgia; earlier she had an enthusiastic reception from music critics for her 'vivacious and piquant' Maria in Donizetti's Daughter of the Regiment, claimed to be the most ambitiously staged opera yet presented in the colonies. Signor Carandini directed the Ballet d'Action in the opening season of the same theatre. After Hayes left, Carandini appeared as a leading female singer in Melbourne opera. In November 1858 she sang Leonora in Verdi's Il Trovatore in a season of twenty-seven performances at the Princess Theatre.
In July 1859 Carandini with her teacher and conductor, L. H. Lavenu, who had arrived with Catherine Hayes as 'cellist, Sara Flower, Emma and Frank Howson and Walter Sherwin took part in a grand festival to inaugurate the new Great Hall of the University of Sydney. At the height of the festivities Lavenu took ill and died; the company did not break up but returned to Melbourne later that year to fulfil an engagement with Gustavus Brooke for a season of opera at the Theatre Royal. With her daughters, Walter Sherwin and others, Carandini then formed her own concert company and in the 1860s and 1870s toured the colonies from Adelaide to the Palmer goldfields. In 1868 they gave a concert under the patronage of the Duke of Edinburgh. They also travelled to India, the United States and New Zealand. Her last appearance in Australia was on 3 February 1892 at a farewell concert in the Melbourne Town Hall when she sang 'Jessie the flower of Dumblane' with a remarkably strong voice for her age. Soon afterwards she left for England.
In 1869 Signor Carandini was pardoned by the Italian government but, soon after he returned to claim his confiscated estates, he died of gastric fever and inflammation of the lungs at Modena on 18 January 1870. In her last years Madame Carandini lived with her daughter at Richmond Hill, near Bath, where she died on 13 April 1894. She was survived by seven children. All her daughters were well known in the colonies for their singing: Rosina, wife of Edward Hodson Palmer; Emma, wife of Robert Walter Wilson; Fanny, wife of Sir Henry Morland; Isabella, wife of Sir Norman Campbell; and Elizabeth, wife of John Adams.
Select Bibliography
B. and F. Mackenzie, Singers of Australia (Melb, 1967)
Sydney Morning Herald, 23 Dec 1844, 23 Oct 1850
Argus (Melbourne), 7 Sept 1855
Australasian, 23 Apr 1870, 3 Apr, 1 May 1875, 6 Feb 1892, 28 Apr 1894
Age (Melbourne), 19 Apr 1894
Kenyon papers (State Library of Victoria)
correspondence file under Carandini (Archives Office of Tasmania).
Additional Resources
Trove search
'An Address to Certain Gents Who Attended the Concert of Miss Flower and Madame Carandini', Bell's Life in Sydney, 26 October 1850, p 3
'Theatre Royal', Argus (Melbourne), 7 September 1855, p 5
'Madame Carandini's Farewell Concert', Hobart Town Daily Mercury, 7 May 1860, p 2
'Carandini Company', Examiner (Launceston), 19 November 1880, p 2
'Our Melbourne Letter', Queenslander, 30 January 1892, p 197
'Mrs Carandini at Home', Brisbane Courier, 11 July 1908, p 7
Related Entries in NCB Sitesview family tree
Carandini, Marie go to Obituaries Australia entry
Palmer, Rosina Martha (daughter)go to ADB entrygo to Obituaries Australia entry
Wilson, Emmaline Ida (granddaughter)go to Obituaries Australia entry
Feez, Arthur Herman (friend)go to ADB entrygo to Obituaries Australia entry
Hayes, Catherine (colleague)go to ADB entry
Nathan, Isaac (teacher)go to ADB entrygo to Obituaries Australia entry
Flower, Sara Elizabeth (teacher)go to ADB entry
Melba, Nellie (pupil)go to ADB entrygo to Obituaries Australia entry
Citation details
Ann K. Wentzel, 'Carandini, Marie (1826–1894)', Australian Dictionary of Biography, National Centre of Biography, Australian National University, https://adb.anu.edu.au/biography/carandini-marie-3162/text4729, published first in hardcopy 1969, accessed online 4 March 2021.
This article was first published in hardcopy in Australian Dictionary of Biography, Volume 3, (MUP), 1969
Alternative Name(s):
Birth:
Death:
13 April 1894
Bath, Somerset, England
Cultural Heritage:
English
Religious Influence:
Anglican
Occupation:
opera singer
Authored By:
Ann K. Wentzel