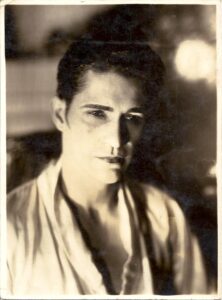 Con (Cornelius) Colleano (1899-1973), tightwire artist, was born on 26 December 1899 at Lismore, New South Wales, third of ten children of native-born parents Cornelius Sullivan, showman, and his wife Vittorine Julia, née Robinson. Julia's father came from the Isle of St Thomas, West Indies, and her grandmother was an Aborigine; boxing and gambling were among her husband's sources of income. About 1907 the family settled at Lightning Ridge where the children received schooling and learned circus skills.
By 1910 the family's little circus was travelling the State, but in hard times the 'Collinos' worked for other circuses, including Ashton's in 1913 and Eroni Bros in 1914-15. Late in 1915 the family again started out on its own. From late 1918 Colleano's All Star Circus toured Queensland by special train. With their 'sable' features, the children endeared themselves as 'The Royal Hawaiian Troupe'. Practising up to seven hours a day, young Con endeavoured to perfect the almost impossible feet-to-feet forward somersault on the tightwire: one afternoon in 1919 he brought it off. In 1922 he was engaged by the Tivoli vaudeville circuit for £60 a week. Next year he performed at Fuller's New Theatre while other members of his family appeared at the Tivoli as 'Eight Akabah Arabs'.
Con went abroad with his fiancée Winifred Constance Stanley Trevail, a vaudeville soubrette who claimed descent from the earls of Derby. At Johannesburg, South Africa, in April 1924 Colleano adopted the Spanish costume that became his trademark. After a successful American début at the Hippodrome, New York, in September, he was soon engaged by Ringling Bros and Barnum & Bailey Combined Circus. Entering the centre ring, he made the traditional passes of a bullfighter; on mounting the wire, he gracefully performed tangos, jotas and fandangos; he concluded his twelve-minute act with the dangerous forward somersault. On 10 July 1926 at Detroit, Michigan, he married Winifred with Methodist Episcopal forms; they were to remain childless. She taught Colleano elements of style, dress and dancing, and was eventually his compere.
Billed as 'The Australian Wizard of the Wire', Colleano remained Ringlings' principal star into the 1930s, drawing a salary of $US1000 a week, with the privilege of his own apartment in the long circus train. Each winter he toured the vaudeville houses of Europe. The Spanish flavour of his act, as well as his Latinate appearance and name, beguiled many into presuming that he was a Spaniard. On one of his few visits to Sydney, he appeared at the Tivoli in 1937. He continued working in American circus and vaudeville, and gave television appearances on the Texaco Star Theatre programme in 1952. Con and the other Colleanos used his farm in Pennsylvania as a holiday retreat and practice ground.
Although he had become a naturalized American citizen in 1950, six years later Colleano came back to New South Wales where he ran the Albion Hotel at Forbes. Returning to the United States, he resumed work on the wire, giving his final performance, unnoticed, in Honolulu in 1960. He died on 13 November 1973 in his home at Miami, Florida. Winifred returned to Sydney where she died in 1986. Colleano's name had been included in the Circus Hall of Fame, Sarasota, Florida, in 1966.
Select Bibliography
R. Croft-Cooke and W. S. Meadmore, The Sawdust Ring (Lond, 1951)
A. D. H. Coxe, A Seat at the Circus (Lond, 1951)
Theatre (Sydney and Melbourne), 1 May 1923
Variety, 1 Oct 1924
Pix, 29 Jan 1938
Warialda Standard, 28 Nov 1910
Western Star, 10 Feb 1917
Sydney Morning Herald, 28 May 1921, 19 Mar 1923, 29 June 1937, 10 Nov 1955
New York Times, 28, 30 Mar 1925, 13 Apr 1930
Detroit Free Press, 10 July 1926
Miami Herald, 31 Jan 1966, 15 Jan 1973
Daily Mirror (Sydney), 3 Sept 1979
Colleano family papers (privately held)
private information.
Citation details
Mark Valentine St Leon, 'Colleano, Con (Cornelius) (1899–1973)', Australian Dictionary of Biography, National Centre of Biography, Australian National University, http://adb.anu.edu.au/biography/colleano-con-cornelius-9789/text17301, published first in hardcopy 1993, accessed online 18 September 2020.
This article was first published in hardcopy in Australian Dictionary of Biography, Volume 13, (MUP), 1993