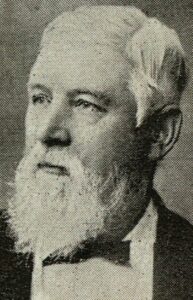 Lewis,
George Benjamin William
George Benjamin William Lewis (1818-1906), circus owner and theatrical entrepreneur, was born on 19 November 1818 in London, and baptized in St Clement Dane's Church of England, Westminster, son of William Lewis and his wife Susan. George joined Ducrow's circus as a child and became a gymnast and ringmaster in Hengler's circus. After touring Europe in 1849-51, he claimed to have earned £30,000. With this fortune he came to Victoria late in 1853, reaching Geelong accompanied by a 14-year-old boy called Tom, his pupil and part of a 'Risley' gymnastic act. Late next year, in partnership with the American hotelkeeper Thomas Mooney, Lewis opened Astley's Amphitheatre, Spring Street, Melbourne, a brick and timber structure for equestrian drama and circus. This venture failed and the building later became the first Princess Theatre.
After moderate success touring the goldfields with his circus, Lewis took his company to China in 1859. Back in Melbourne the troupe appeared at Coppin's Cremorne Gardens. Abandoning equestrian shows in 1863, he formed a dramatic company, which toured British communities in Asia. At Shanghai in 1864 he married Rose Edouin Bryer (1844-1925), an English-born actress known as Rose Edouin. From a talented theatrical family, she had been born on 29 January 1844 at Brighthelmston (Brighton), Sussex, and had performed in Victoria with the American comedian Joseph Jefferson [q.v.4]. There were to be at least seven children of the marriage.
From 1867 the Lewises opened seasonal dismountable theatres on the Calcutta maidan, India. Until early 1876 the couple and their company commuted from Australia to China and India, playing Shakespeare and melodramas such as East Lynne. Rose played roles ranging from Romeo to Lady Macbeth. Their last season (1875-76) featured J. C. Williamson and Maggie Moore. Returning to Melbourne, in November 1876 Lewis became the first lessee of the Academy of Music (Bijou Theatre), Bourke Street. By 1878 he had both the Bijou and the Opera House, with Rose as 'directress'. Their connection with the Bijou ended in 1885. During the 1880s Mrs Lewis opened a school of elocution and formed a company of juveniles who starred in her productions of H.M.S. Pinafore in Melbourne and Sydney. In the same decade the couple leased theatres in Sydney and in New Zealand. Lewis's success was reflected by his investment in Melbourne property; he owned several houses in St Kilda Road. By the late 1880s they were living in semi-retirement.
Lewis lost heavily in the depression of the 1890s. Rose returned to the stage and in 1892 had success in London at her brother Willie Edouin's Strand Theatre. In Australia again after a tour of South Africa, she continued her school which, with her stage appearances in Sydney, Melbourne, Adelaide and Launceston, Tasmania—where she played Hamlet—became the couple's main source of income. In 1905 Melbourne's theatre community, led by Williamson, noticed that 'G.B.W.' had fallen on hard times and held a benefit for him. Lewis was described in old age as tall, 'straight as a dart', with a 'beautiful speaking voice'. He died on 18 July 1906 in the Alfred Hospital and was buried in Melbourne cemetery. His wife and one son survived him. Rose returned to the London stage, playing character roles such as the nurse in Romeo and Juliet, and died on 24 August 1925 at Harrogate, Yorkshire.
Select Bibliography
Victorian Theatres Trust, Newsletter, May 1998
M. Colligan, 'Circus in the Theatre: Astley's Amphitheatre, Melbourne 1854-1857', Australasian Drama Studies, no 35, Oct 1999, p 31
Argus (Melbourne), 22 Sept 1854, 28 Sept 1854, p 5, 22 Jan 1869, p 5, 31 Oct 1869
Times (London), 27 Nov 1855, p 10, 25 Aug 1925, p 12
Englishman (Calcutta), 18 Sept 1867, p 3, 23 Nov 1875, p 4, 29 Jan 1876, p 1
Australasian, 18 Sept 1869, p 370, 6 Dec 1873, p 723, 21 July 1906, p 146
Leader (Melbourne), 28 Feb 1885
Sydney Morning Herald, 29 Oct 1898, p 4
Punch (Melbourne), 1 June 1905, pp 714 & 731
Age (Melbourne), 19 July 1906, p 5.
Citation details

Mimi Colligan, 'Lewis, George Benjamin William (1818–1906)', Australian Dictionary of Biography, National Centre of Biography, Australian National University, http://adb.anu.edu.au/biography/lewis-george-benjamin-william-13045/text23589, published first in hardcopy 2005, accessed online 19 September 2020.
This article was first published in hardcopy in Australian Dictionary of Biography, Supplementary Volume, (MUP), 2005.
Image from Tatler, 21 May 1898
Newspaper Collection, State Library of Victoria
Alternative Name(s):
Alfredo, Captain, Perce
Birth:
8 February 1896
Kiama, New South Wales, Australia
Death:
11 August 1974
Penrith, Sydney, New South Wales, Australia
Cultural Heritage:
New Zealander
Occupation:
Circus owner
Circus performer
Authored By:
Mark Valentine St Leon