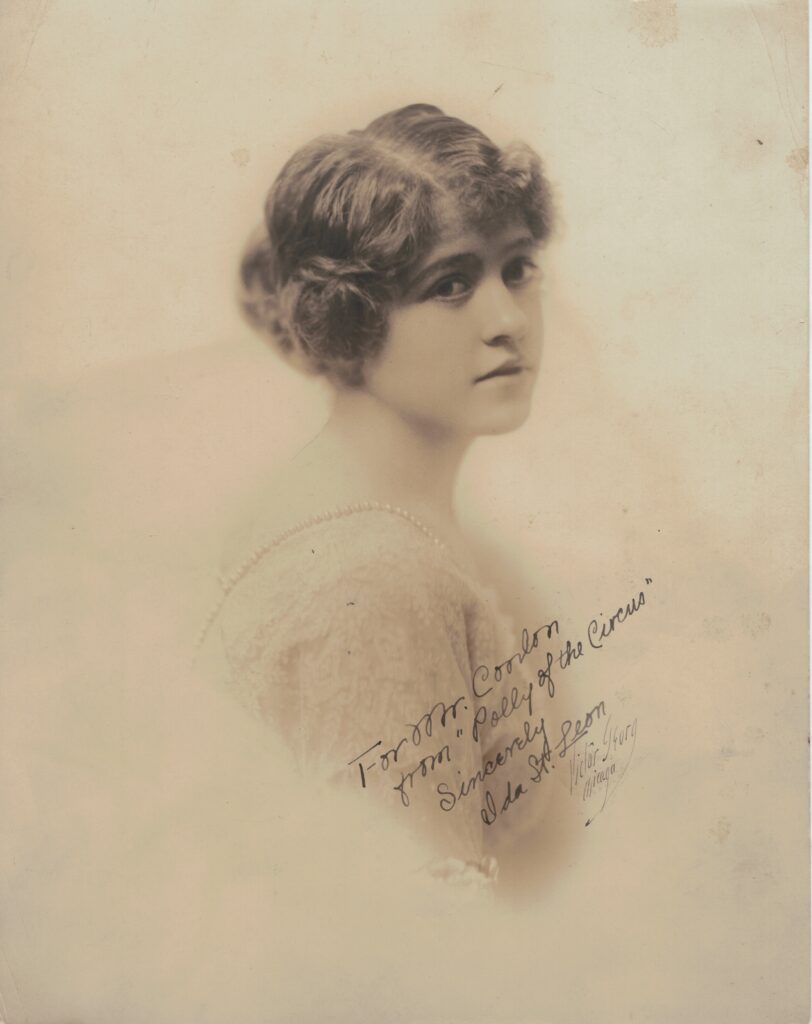 I recently came across this portrait of Ida St Leon (1894-1961), Australian-born stage actress and circus performer, listed on Ebay, so snapped it up.
Ida was born at Burrowa, NSW, when her parents (Alf & Ida St Leon) were working and travelling the Australian bush with Perry's Circus. Like her siblings, Ida followed in the family footsteps and became an accomplished acrobat, equestrienne and tightwire artist. Her "St Leon" family entered the USA in 1899 and soon found their place in American show business.
In 1908, Ida and her family were hired by Frederick Thompson to perform the live on-stage circus scenes for his stage production of Polly of the Circus which was toured throughout the US and Canada for several years. The St Leons were paid $1100 a week for their 45-second on-stage circus performance of acrobatics and riding.
The title role of "Polly" was initially played by a regular actress, Mabel Talliafero. When not performing on the stage, Ida used to stand a little off-stage observe Talliafero's acting style and memorise her dialogue. After several seasons doing that, Ida could recite all of Talliafero's lines and mimic her acting style perfectly. When Talliaferro moved on, Ida just naturally stepped into the title role of "Polly".
Having made the transition from circus artist to "legitimate" stage actress, Ida never went back to circus. She acted the role of "Polly" for about three years, 1910-13, and then moved on to other theatrical engagements. In 1917, she was voted one of America's ten most popular actresses.
In 1917, Ida married a Los Angelos businessman, Leo M. Rosenburg. She retired from the stage about 1924.
On this portrait, taken in Chicago, Ida has signed it "Ida St Leon – Polly of the Circus", but I suspect the portrait was done some years after she last played that role, I would guess about 1918.