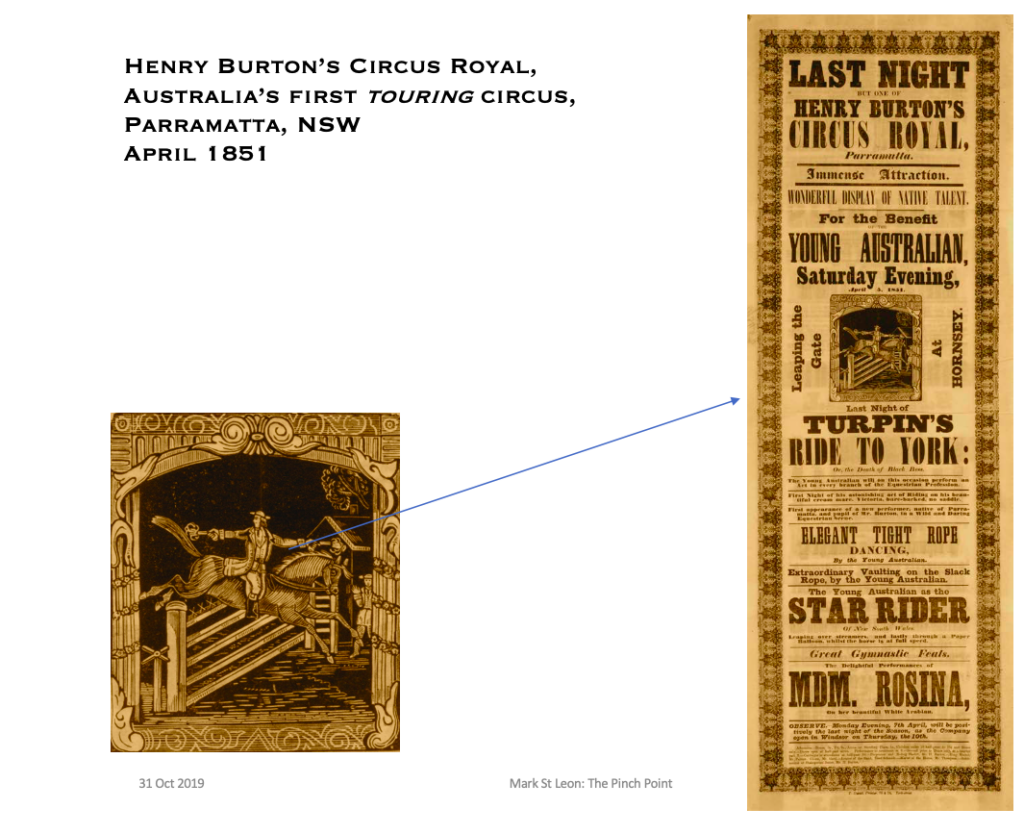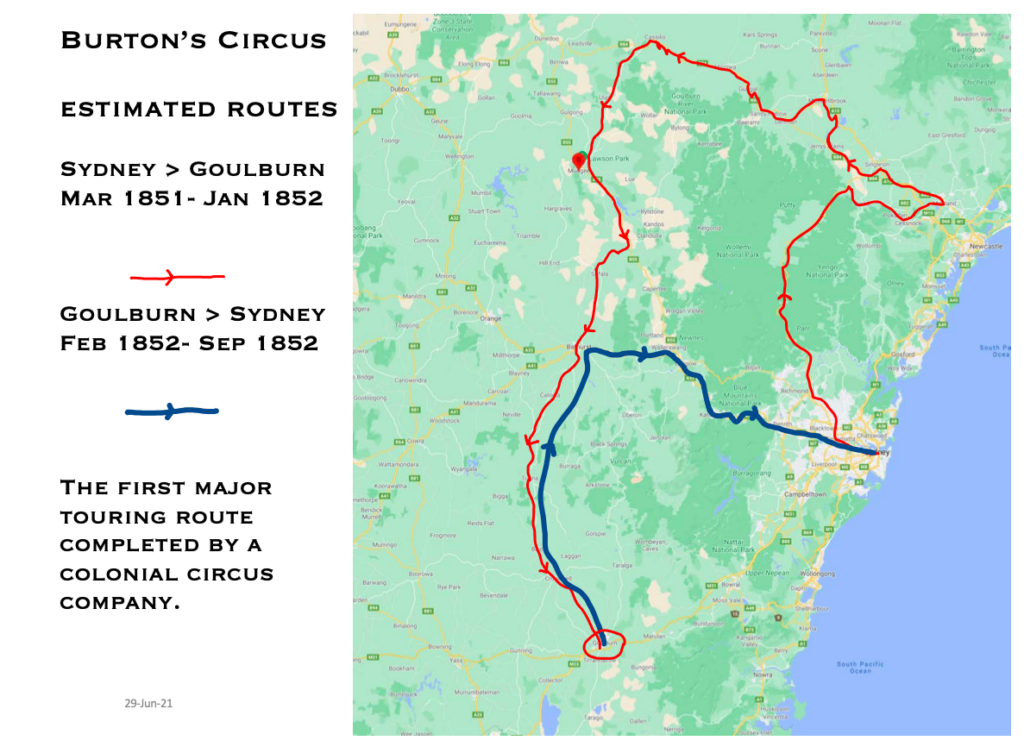 In the spring of 1850, La Rosiere, Jones and troupe returned overland from Maitland to Sydney and opened a circus in the backyard of John Malcom's Adelphi Hotel in York Street. It was Sydney's first circus and, with little other entertainment on offer in the little city – population about 44,000 – it was an immediate success.
About this time, some English circus men decided to voluntarily make the long voyage to Australia to see for themselves, among them the manager of one of England's leading circuses, Cooke's Royal Circus. His name was Henry Burton and he would play a leading role in creating a colonial circus industry. Within a few months of arriving in Sydney, Burton had trained several horses and a number of colonial youths to ride them, and started organising a circus troupe of his own. When John Malcolm, the owner of the Adelphi Hotel, usurped control of the Royal Australian Equestrian Circus, John Jones joined Burton who opened his New Equestrian Circus at Parramatta in March 1851 adjacent Curran's Glasgow Arms Inn.
From Parramatta, Burton and his troupe travelled overland, by way of Wollombi and the St Alban's Valley, to West Maitland, where they opened at the Rose Inn in May 1851. A month or so later, rich deposits of gold were discovered at Lewis Pond Creek, a tributary of the Turon River. People rushed for the diggings, carrying their few possessions on their backs or by trundling wheelbarrows. Deprived of an audience, Burton decided to follow them with his troupe of 11 performers, nine ring horses and numerous packhorses. They travelled by way of Singleton, Muswellbrook, Jerry's Plains, Merriwa, Cassilis and Mudgee.
At each place, the troupe stopped for a few days. At Merriwa, the licensee of the Fitzroy Inn had a ring 'fitted up' in time for the company's arrival and about 100 people saw the troupe's Friday afternoon performance. At Mudgee, Burton was directed toward the rush on the Turon River. They continued their journey across mountains, where roads were non-existent. It was mid-winter when Burton and troupe reached the diggings at Wallaby Rocks at Lewis Ponds Creek. One account says that they found there:
… about 300 diggers, brimming with excitement over new found gold … The sun was going down as the tired, hungry and travel-worn company reached the camp and a show that night seemed an impossibility; but whilst a contingent of the miners was told to get ready a hurried feast … a number of the sturdiest young fellows set to work to make a rude enclosure of logs and mark out a ring. There was no time to rig up the tent … With no illumination except the light from the fires inside the enclosure, which served the dual purpose of keeping the spectators warm and enabling them to see the show, under a roof of stars, the appreciative audience lustily applauded alike acrobats, trick ponies, clowns and columbine with hearty good humour. It was a 'smoko' entertainment, with no charge for admission and no doorkeeper but where gold was to be had for the digging no one grudged to pay liberally …
Henry Burton's initiative in taking his circus onto the goldfields marked the beginning of Australia's travelling show industry. His first stand at Sofala realised takings of £77. Over the following six months, Burton moved between Bathurst and the Sofala diggings, playing two nights at each place each week. In Bathurst in August 1851, a juvenile 'half-caste' performer named 'Little Nugget', made his first appearance with Burton's troupe. About seven years of age, he was described as a 'manly little fellow of exquisite proportions', who leaped on and off his cream-coloured pony 'with pleasure in all directions; sometimes running by his side when at full speed, and vaulting with surprising nimbleness on his back'. The boy was born near Dubbo about 1844, the son of a labourer known only as William and an Aboriginal woman known only as Mary Ann. Burton's presentation of 'Little Nugget' marked one of the first engagements of an Aborigine in any génré of the European performing arts.
After 6 months entertaining Bathurst and the diggers on the goldfields around Sofala, Burton continued southwards to reach Goulburn where he opened his Circus Royal in January 1852. As far as the record speaks, this was the first complete circus to visit Goulburn. He may also have visited the diggings at Araluen and Braidwood at this time. Burton then returned to play Bathurst and the Sofala diggings for a few months more before returning to Sydney in September 1852, with his company, to open in Castlereagh Street.  The entire 'loop' had taken 18 months to complete and involved negotiating territory devoid of formed roads and bridges.
In the months to follow the discoveries around Sofala, gold was discovered in Victoria, the greatest at Ballarat and Bendigo Creek.With these finds, diggers now began trudging southwards from Sydney along the Port Phillip Road, by way of Goulburn, Yass and Albury, to reach these new Victorian diggings.  If they could afford their passage, others travelled by ship to Port Phillip and then travelled overland, whether on foot, horse, dray or coach, to reach the new diggings of Victoria. The people drawn to the diggings were soon joined by others from across the seas. Thespians of various descriptions – circus troupes, German bandsmen, actors, singers, dancers and minstrels – followed in their wake. Hordes of diggers soon arrived from the adjacent colonies and from across the seas. The focus of Australia's gold rush now shifted to Victoria. In February 1852, an American circus man, John Sullivan Noble, opened his Olympic Circus in a pavilion he erected at the top of Bourke Street. 'Canvasted' and 'commodious', Noble's structure could seat as many as 500 people. In June 1852, another American circus man, Joseph Andrew Rowe, arrived from San Francisco with his little troupe and opened his North American Circus in Lonsdsale Street where he remained anchored for over two years.